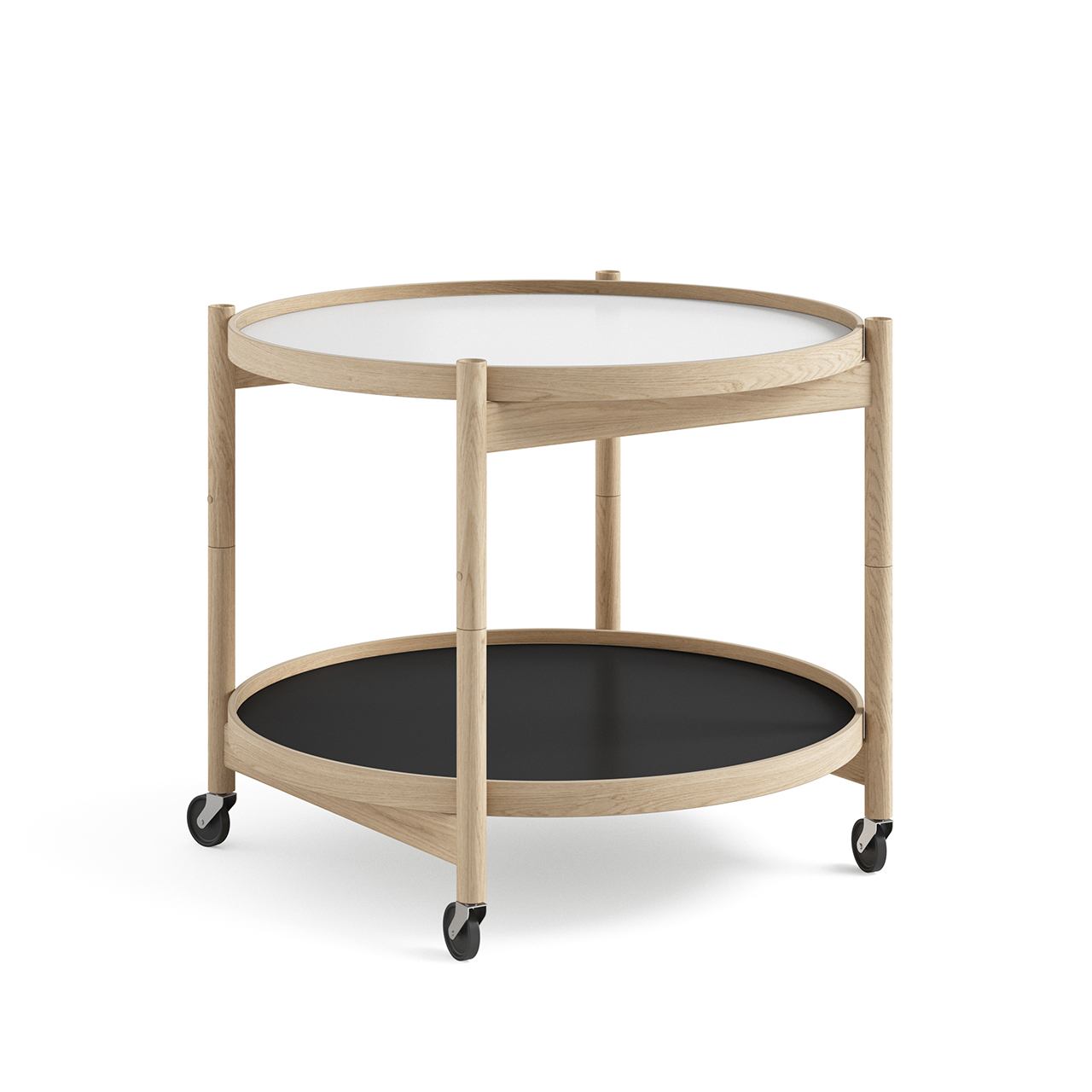 Bølling Tray Table / Model 60
from 6.000 kr.
In 1963, Danish architect Hans Bølling designed the simple, elegant and mobile table, which was easy to handle. Since then, it has become a symbol of the playful functionalism of the golden Danish Modern era – and a design idea that is still relevant today. A Danish classic.
The Bølling Tray Table is available in two different dimensions, and serves a variety of practical, mobile and aesthetic purposes. Can be used in many ways – as a serving trolley, bar cart, bedside or side table…
Introducing:
7 new colourways
The colours are selected for their tone-in-tone harmony and soft contrast, and to match the natural hues of the wood frame.
Each colourway comes in a separate tray of two different colours- one on each side.
The Bølling Tray Table holds two loose reversible trays, and each of them can be turned over for colour variation and a personal touch.
Influenced by time
The colours are carefully selected in collaboration with Hans Bølling. Classic natural colours are complimented with new inspiring tones. A synergy of timelessness and contemporary spirit.
Earth
A light caramel Beige that perfectly matches the natural tones of the oakwood frame, and comes across as monochrome, warm and modern.
On the other side of the reversible tray, Earth has a dark chocolate Brown, adding contrast and variety.
Earth
Dark chocolate Brown goes in natural harmony with darker wood sorts, such as fumed oak or walnut, combining a subtle sense of luxury, with a modern monochrome look.
Sunny
The warm Ochre Yellow is a reminiscent of ancient pigment colours, yet with vibrant energy.
On the other side of the reversible tray, Sunny has a light creamy tone, that ads contrast and variation.
Clay
This vibrant burnt Orange has classic notes of terracotta and cognac leather, both complementing and uplifting its interior context.
On the other side of the tray, Clays has an off-Black, that ads classic contrast and variation.
Water
A deep marine Blue note that, like an anchor, brings calm and soothing tones to any context.
On the reverse side of Water, is a brighter airy Blue, that uplifts with light contrast and tone-in-tone variation.
Water
A fresh and airy Blue, with baby-Blue notes, that brings modern harmony to interiors, and blends well with both dark and light wood sorts, shiny metals and more.
Furthermore, it brings tone-in-tone contrast to its reverse counterpart; dark marine Blue.
Leaf
Two shades of green make up the Leaf colourway. On one side of the tray is a deep dark moss-like Green, and on the other; a lighter olive Green.
In combination, the two greens complement each other with soft contrast.
Stone
Two classic shades of slightly warm Grey, that will compliment most settings. Each side of Stone has its own light and dark grey. In combination they bring subtle and soft contrasts.
Base
The classic model with Black and White trays has been discretely adjusted for softer contrast and a bit of warmth.
Made in Denmark
The Bølling Tray Tables is carefully made at the 5th generation Brdr. Krüger workshop in Denmark.
Bølling Tray Table is practical and easy to store. The two reversible trays, of high-pressure laminate plates, can be turned for colour variation. Wooden H-frame can easily be folded without the use of tools.